Haverford Township Historical Society
Fourth-Grade Students Step into History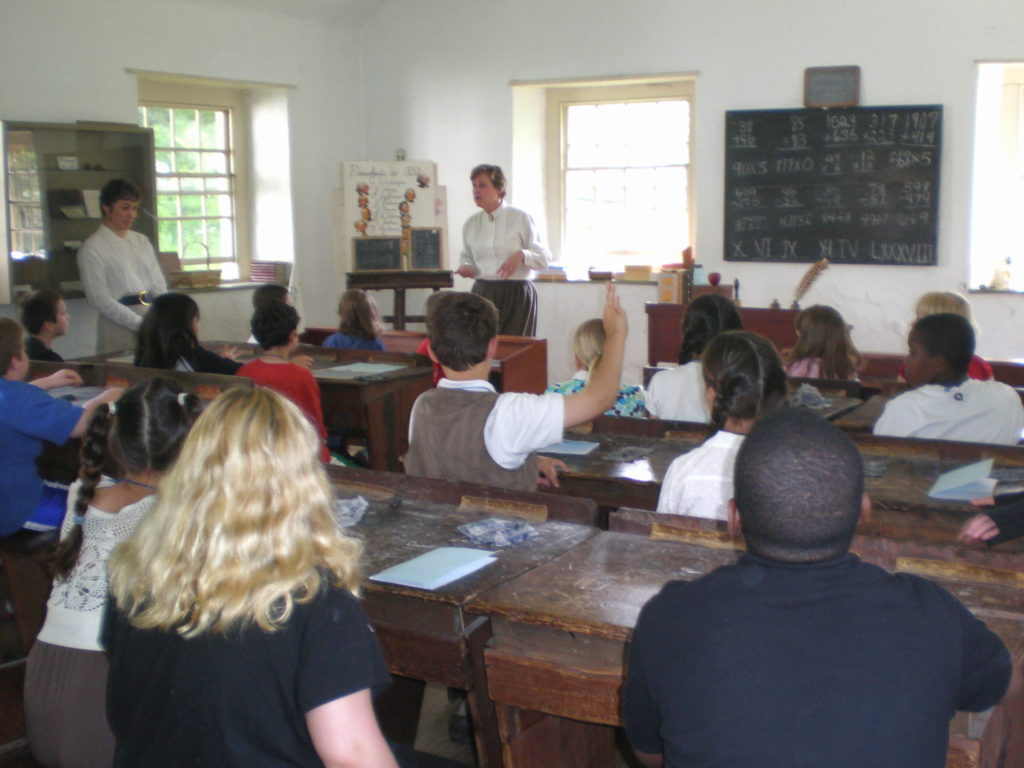 The Federal School Program is a unique and popular "living history" experience created cooperatively by the Haverford Township Historical Society and the School District of Haverford Township.
Each spring fourth-grade students from all five public elementary schools come to the Federal School. They spend a day "living" in the year 1849 and experiencing a school day in our restored one-room schoolhouse. The Federal School is located on Darby Road, on the former Allgates estate.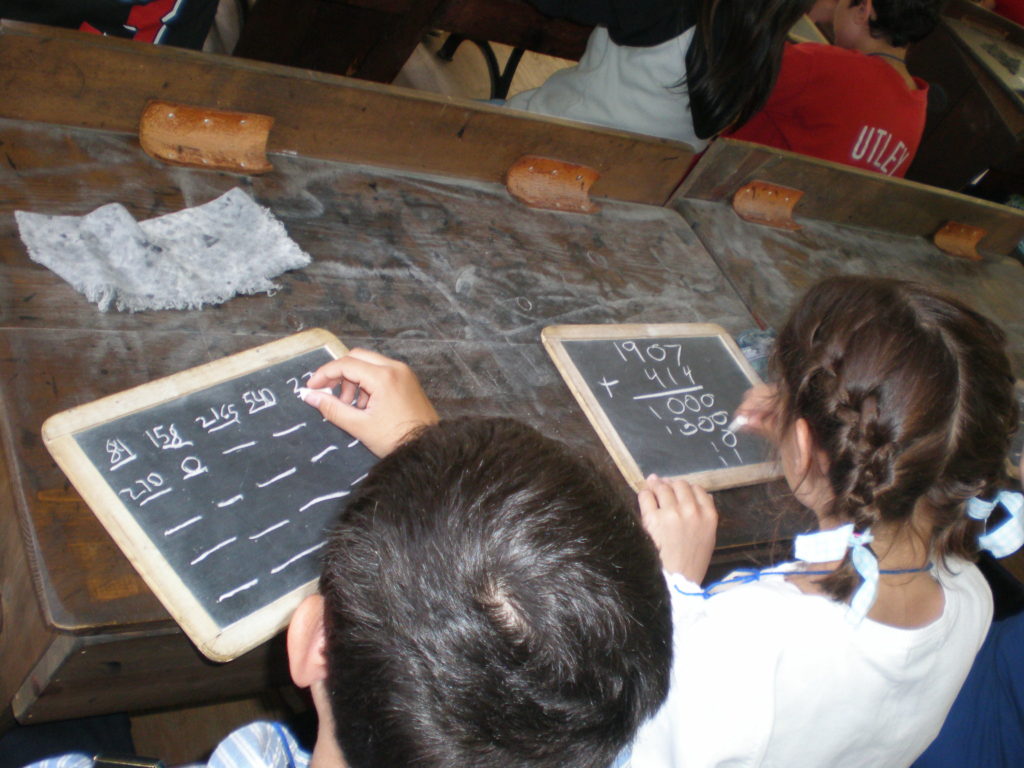 During the day students enjoy the challenge of learning to write with nib pens and ink. They sew their own copy books, do ciphering (arithmetic) on slates, read from McGuffy's Readers, participate in a spelling bee, and practice memorization and recitation.
During recess they play with typical mid-nineteenth century toys, such as hoop and stick, "graces" catch game, jacks, wood puzzles, jump ropes and tops.
The children have fun trying to adhere to the rules for behavior once common in one-room school houses, while learning the history of the Federal School itself and education in general. They delight in hearing about the apple for the teacher, the hickory stick and the dunce cap. Many dress in costume, adding to the charm of the experience.
The Federal School Program has been in existence since 1991. In addition to public school classes, it can sometimes accommodate limited classes from private schools and home school programs. This "hands-on" experience is a curricular introduction to Pennsylvania history. It continues to be a popular precursor to the Colonial Living Program enjoyed by fifth-grade students in the fall.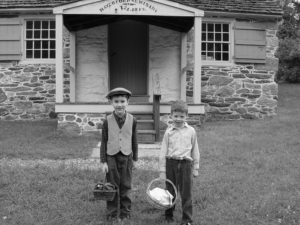 ---
Federal School & One-Room Schoolhouse "Fun Facts"
Did you know . . .
Students in one-room schoolhouses ranged from ages 5 to 18 – all taught together in one classroom.
The notion of "an apple for the teacher" is derived from the practice of paying for children's education by providing food for the teacher.
Wearing the dunce cap was meant to embarrass students into studying harder, as "dunce" means stupid.
Teachers were expected to sharpen each student's quill pen every day.
Female teachers were not permitted to marry.
Hornbooks were wooden paddles with alphabet or text samplers covered in thin, transparent layers of horn, and used as primers by students.
The Federal School was the first building in Haverford Township dedicated totally to education, and was built in 1797.
The Federal School has been used as a school, a private home and a storage building.
The name "Federal School" refers to the people's pride in 1797 in the United States' newly-adopted system of government. It does not indicate a federally-run institution.
The Federal School is located on the former Allgates Estate, in the original Coopertown area of the township.
The Federal School transitioned from a private "subscription" school to an early public school in 1849.
Artifacts such as slate pencils, marbles, buttons, and a domino were found when an archaeological dig was conducted under the Federal School floor.
---