Haverford Township Historical Society
Fifth-Grade Students Step into History
Colonial Living is a living history program provided to all fifth-grade students attending public schools in the Haverford Township School District. This unique and award-winning program is run by the Haverford Township Historical Society in partnership with the school district.
Students at Colonial Living spend a day doing some of the chores and activities that early 18th and 19th century children once did. Colonial Living takes place at both Nitre Hall and Lawrence Cabin, which allows students the opportunity to compare and contrast lifestyles between the centuries.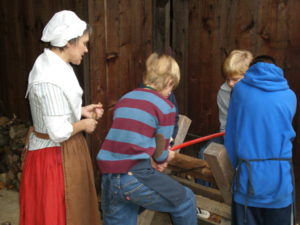 The costumed students are all "hands on" when it comes to sawing and splitting wood, preparing a noonday meal, churning butter, hauling water in wooden buckets, and dipping candles. They enjoy helping with open hearth and cast iron stove cooking, a soap-making demonstration and picking herbs from the herb garden. The day is capped off with tours of both Nitre Hall and Lawrence Cabin.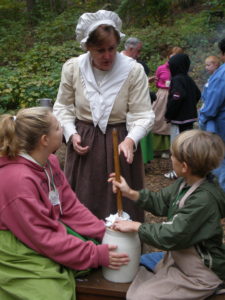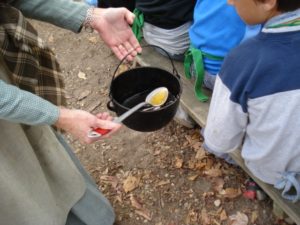 Guides attired in colonial garb lead the students through the day's activities, while sharing information on colonial children's lives and local history. Much of the information that's shared with the students at Colonial Living was common knowledge for the original inhabitants of Nitre Hall and Lawrence Cabin, but with time, progress and technology it's been forgotten. With that in mind, we offer some long lost . . .
Colonial Living "Fun Facts"
Did you know that . . .
Butter is churned from cream?
Churning time is greatly influenced by the air temperature?
Buttermilk is the byproduct of the butter churning process?
Candles were made from beeswax, tallow, spermaceti, or bayberries?
It takes about 60 dips to make a decent sized candle?
Candles dipped in a copper pot take on a pale green patina?
Simple soap is made from beef, pork or lamb fat, lye and water?
Simple soap is very good for removing grass and dirt stains from clothing?
Simple soap starts out white and turns brown as it ages?
Wooden buckets leak until they've absorbed enough water to swell the wood?
Water buckets were carried on wooden yokes straddling a person's shoulders?
These are a very few of the "fun facts" that children learn in the Colonial Living Program.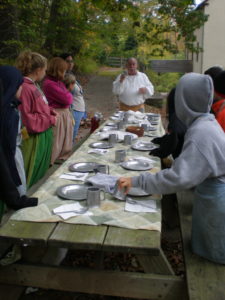 To see the recipes used in the Colonial Living Program visit our Colonial Living Recipes page.
---