Haverford Township Historical Society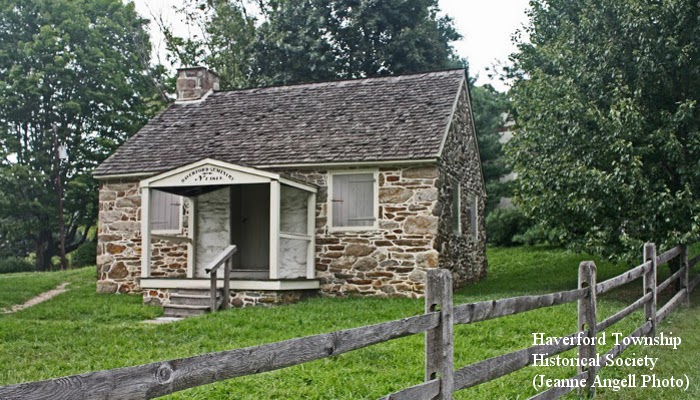 Federal School (1797)
The first record of the purchase of land for a school in Haverford Township was October 29, 1797. Alexander Symington received 5 shillings for an irregularly shaped building lot of one-quarter of an acre and three perches near the intersection of present-day Darby and Coopertown roads. Payment for the land was made by five trustees: Philip Sheaff, William Brook, Francis Lee, David Lyons and Benjamin Hayes Smith "for the purpose of erecting a school thereon for the use of said Township of Haverford."
The one-room stone building was named the Federal School, indicating the pride of the townspeople in being part of the recently federated United States. The name has no government connection.
This is the oldest extant building in Delaware County erected specifically as a schoolhouse. Except for the deed, no records from the school have been discovered. It was most probably a subscription school with tuition paid in cash, produce or perhaps by boarding the teacher.
It was not until 1834 that the Commonwealth of Pennsylvania passed the Public School Law, requiring communities to provide free public education to all children. Dr. George Smith, son of trustee Benjamin Hayes Smith, was chairman of the Senate Committee of Education at that time. In 1849 a small porch was added to the 1797 building. The frontispiece reads "Haverford Seminary No. I – 1849". "Seminary" in this instance means a place of learning, rather than a religious institution.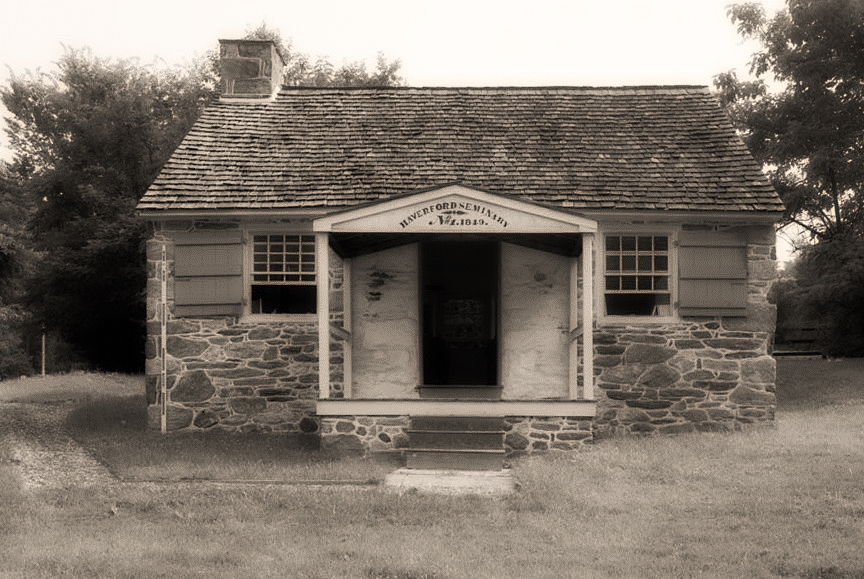 The Federal School served the community for 75 years. Later occupied as a residence for some time, the Federal School was used for storage after the property was purchased by Horatio Gates Lloyd. The Haverford Township School District purchased Lloyd's Allgates estate, including the land on which the Federal School stands, in 1967 for a middle school site. The Optimists of Havertown restored the interior of the old school as a 1976 Bicentennial project, with the Haverford Township Historical Society acting as advisors.
Lack of community support for a middle school led to the sale of the Allgates property for development. Included in the agreement was a conveyance of rights to the Federal School and access to the same to the Township of Haverford. The Historical Society worked with the Township, utilizing Community Development funds, to complete the restoration and build a small auxiliary building for sanitary and utility facilities. Replica desks and benches, each seating two students, were made by the Industrial Arts classes of Haverford High School. Two long benches from an 1872 school building were given to the Historical Society, and High School students made replica desks to go with them.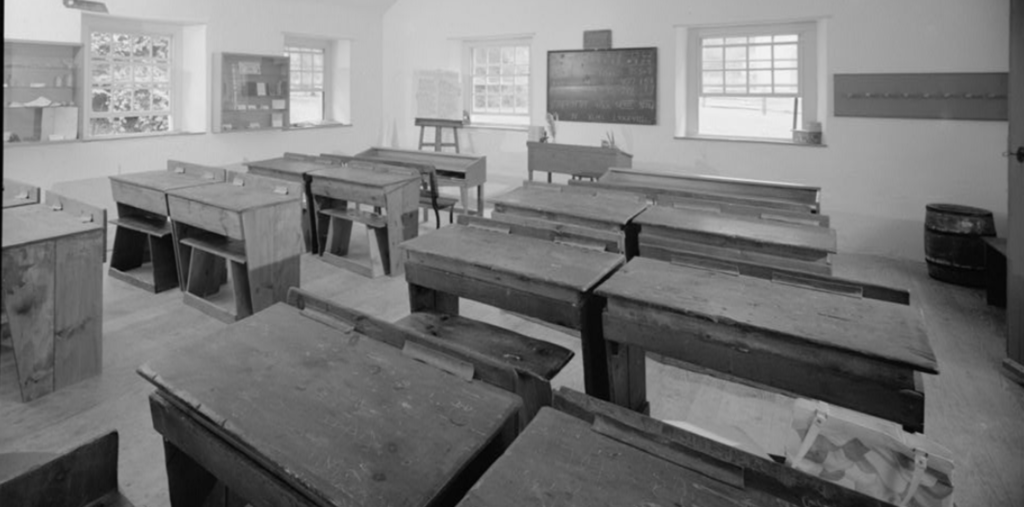 The curriculum for fourth-grade classes of Haverford Township public schools includes a day at the restored Federal School. Classes now come to the Federal School to experience what student life was like in the late 18th and 19th centuries. Sometimes arrangements can be made for other school classes to visit.
The Federal School is listed on the National Register of Historic Places. It is open to the public for special events and by appointment.
---