Haverford Township Historical Society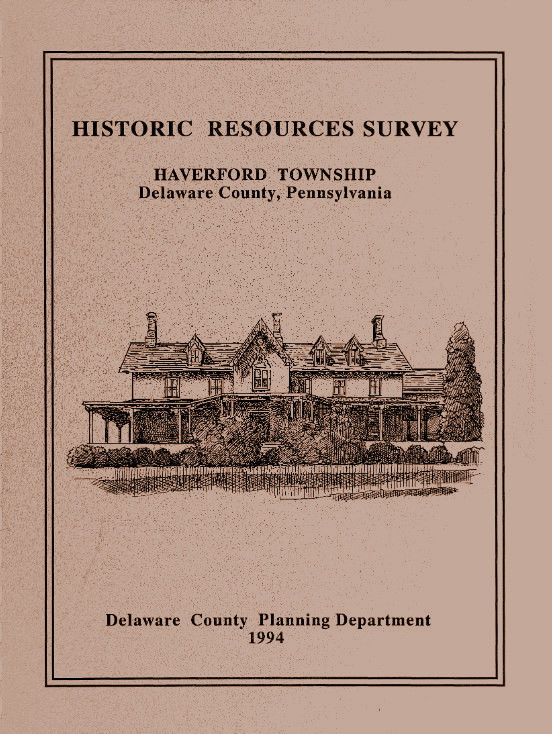 Historic Resources Survey – Haverford Township (1994)
The initial Historic Resources Survey (HRS) for Haverford Township was prepared in 1994 by the Delaware County Planning Department and includes over 100 entries throughout the township. These resources were evaluated for historical and architectural integrity and significance. The 1994 HRS book formed the basis for the township's Historic Preservation program. In the years since 1994, the township Board of Commissioners, with recommendations from its appointed Historical Commission, has made changes to the HRS list, which is subject to a zoning overlay district.
It is important to note that this official township Historical Commission is different than our independent non-profit organization, the Haverford Township Historical Society.
We present here a PDF scan of the original photocopy-printed 1994 HRS book as a significant historical document, even though it is not the current HRS list.
The entries in this book are organized by their Survey Numbers. If you do not already know the Survey Number of the entry you want, first use our HRS List by Street document, sorted by address, to look up an entry and find its Survey Number (like "HA-001"). Then scroll through the pages noting the Survey Numbers in the bottom right corner. They look like "045-HA-1" without leading zeroes in the last portion. (Here "045" stands for Delaware County and "HA" for Haverford, followed by a sequential number for each entry, some with letter suffixes if the entry has multiple items within it.)
---